Easy, delicious and yummy bread pizza recipe without oven. Healthy snacks for kids and elders as it is full of yummy vegetables and cheese.
Hello foodies!! It is the obvious that we all love pizza, specially our kids. And kids do not love eating vegetables like tomato, capsicum etc. As a mother you should use your creativity and change the look of vegetables and serve it to them. Here the recipe of vegetables bread pizza on gas stove without using oven. So if you don't have oven..don't worry. Let's begin…..
Ingredients for bread pizza
5-6 bread slices (white or brown)
A cup Grated mozzarella cheese
One chhoped capsicum
1 chhoped tomato
One chopped onion
1tsp red chilli
A tsp oregano
1 tsp dried basils (Tulsi)
A pinch of black pepper
1 pinch of black salt
One pinch of chaat masala
4 tbsp tomato ketchup
1 tbsp oil.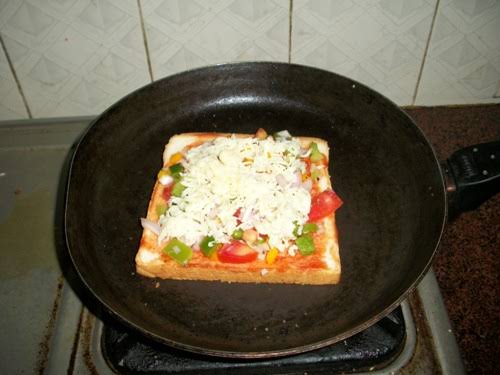 How to make bread pizza
1) Take one bowl, add all vegetables and oil, mix it properly. Now add 1tbsp cheese, 1 pinch of each ingredients oregano, basil, chilli flakes, black pepper, black salt, and mix it properly.
2) pizza mixture is ready, take 2 bread slice, apply ketchup on the top and mixture on it.
3) Now cover bread with cheese on the top, cheese is the good source of protein.
4) Add oregano and chilli flakes on the top.
5) Now, on the gas, add 2 spoon of butter on hot pan. Cook bread on it in low flame. Cover it with pan cover. Cook it for 2-3 minutes.
6) your crunchy base veggies pizza is ready.
Cut it into two halves and serve hot with tomato ketchup.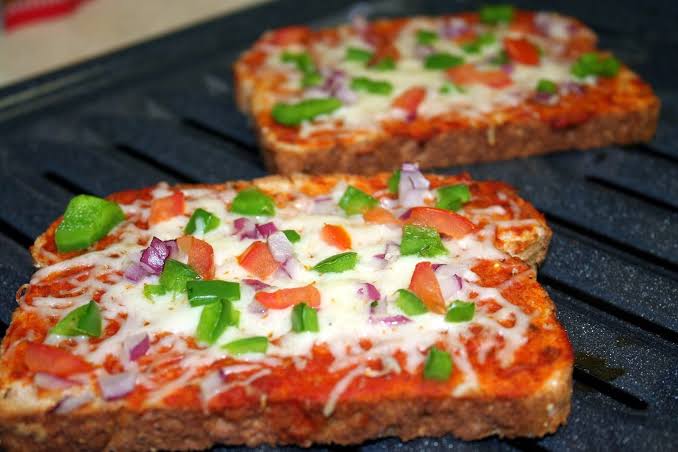 To watch the full video of bread pizza recipe on tawa click on below:-
BREAD PIZZA WITHOUT OVEN RECIPIE
For more such recipes follow me on Facebook
Cookin France
Make this tasty bread pizza at home and share your queries in comment session. And if you want to share some suggestion you can comment below.
Thanks!!