We Indians are most fascinated towards KHEER in every festival or family get-together. Kheer is all time favourite dessert for us. But in festive season or winters we love kheer more than delicious food. Mostly kheer is made by many recipes like SABUDANA KHEER, MAKHANA KHEER, RICE KHEER etc. But today Cookin France come with two very yummy kheer recipe which is very easy to make. So let's start…
1) PUNJABI STYLE – RICE KHEER
Needless to say but punjabi food is awesome than any food in India. If you are also Punjabi food lover so here is the recipe of PUNJABI RICE KHEER for you.
Ingredients for Rice kheer
1 Cup rice
2 Cardamom (ilaychi)
1 Ltr milk
1 Cup sugar
7-8 chhoped almonds (Optional)
7-8 Raisins (Optional)
Rose water
How to cook Punjabi style – Rice kheer
1) Soak rice in water for 1 hour, after that crushed rice with your hand into 2-3 pieces.
2) Take a deep stainless steel pan (Kadai) on gas stove. Add milk and cardamom in it. Let it be cook on low flame for 15-20 minutes.
3) After that add sugar in it, mix Properly.
4) Stirring occasionally after every 5 minutes, check your desired thickness.
5)Cook on low flame, Stirring occasionally for 15 minutes.
6) Now add raisins and almonds, mix well, check thickness.
7) Add 6-7 drops of rose water for traditional flavour.
8) Serve hot in glass bowl, garnish with chhoped almonds.
Watch video of PUNJABI STYLE RICE KHEER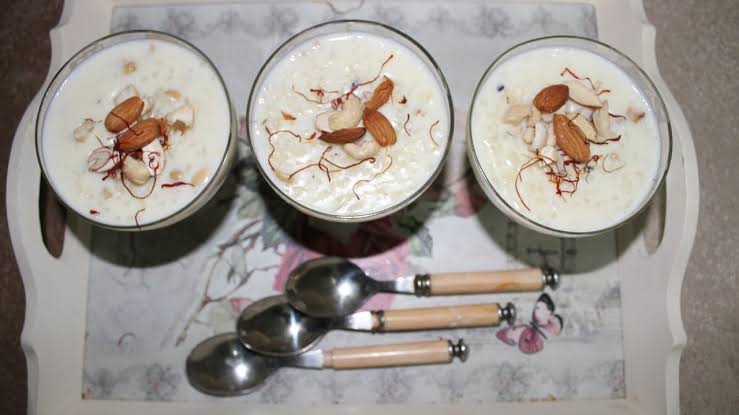 TIME DURATION= 45 MINTUES
SERVING = 3 PERSONS
2) COCOLATE RICE KHEER
Rice KHEER is traditional KHEER, but chocolate is modern taste. Both will together gives a indo-modern dessert taste. So let's start chocolate rice KHEER recipe..
Ingredients for chocolate Rice kheer
1 Ltr. Milk
A Cup brown sugar
1 Cup chocolate (any chocolate)
One Cup Rice
2 cup water
1/2 Cup fresh cream (Malai)
2-3 cardamom
1Tbsp choco chips and sprinkles for garnishing.
How to make chocolate Rice kheer
1) Soak rice in water for 1 hour.
2) Take a pan and add milk and Cardamom, cook it for 20 minutes in low flame.
3) On another stove, take a another pan and melt chocolate with cream on heat.
4) Mix chocolate and cream properly, wisk well for lump free choco.
5) When rice properly cooked, add sugar in it. Stirring occasionally for non stickiness.
6) Take a glass and half fill with chocolate mixture and another with Rice KHEER.
7) Freeze these glasses for 15 minutes, then garnish with choco chips and sprinkles. Serve chilled and enjoy!!
Watch full video of CHOCOLATE RICE KHEER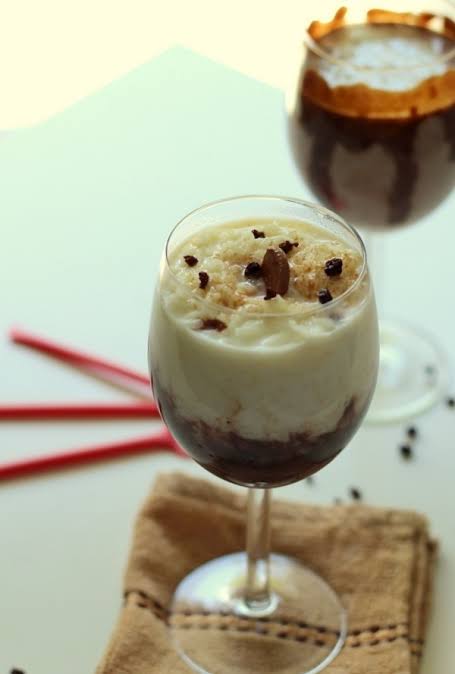 TIME DURATION= 45 MINUTES
SERVING = 4 PERSONS
RELATED POST :- GAZAR KA HALWA
Try this two yummy dessert recipe at home and share your reviews with us on comment session or my Facebook page Cookin France
Thanks!!