These delicious white laddoo perfectly cover with grated coconut are very attractive as well as a perfect dessert. So, here is the making process of these white laddoo.
Ingredients for coconut laddoo
400g. Sweetend condensed milk.
5 cups. fresh grated coconut, keep 1 cup aside for garnishing.
How to make coconut laddoo
1) Take a stainless steel kadai (pan), put 4 cups of grated coconut with condensed milk and mix well.
2) Heat the mixture, stirring occasionally so that it does not stick with the kadai.

3)Now cook it on low flame for 10 minutes
4)Remove from fire yet it cool.
5) Let's roll it into laddoos with oily hands,then garnish it with remaining grated coconut.
Watch full video of COCONUT LADDO RECIEPE here.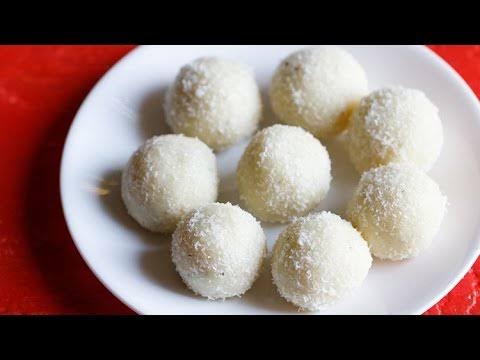 SERVING= 5 person
TIME DURATION= 15 minutes