Palak paneer curry is made up of Indian cheese (paneer) and spanich (palak) leaves. This curry is one of the most delicious dishes of North India. Spanich can be use in many dishes like 'Palak saag', 'Palak pakora' etc.
Today we will learn palak paneer recipe in shahi style. For this shahi taste you have to add cream and cashews in palak, or if you don't want it, you can avoid. It is totally optional. This recipe is my favourite recipe among all palak recipe.
Shahi palak paneer is usually made on any special occasions because it is not easy to eat such creamy curry on normal days. If you don't like cashew or cream, do not add it. Use only butter for garnishing.
Let's start how to cook palak paneer in shahi style.
Ingredients for palak paneer
500gm Spanich leaves
250gm Paneer pieces (Indian cottage cheese)
1Cup onion paste
A bowl of tomato puree
4Tbsp oil
1 Cinnamon stick (Dalchini)
5-6 Cloves (Long)
4 Green Cardamoms (Ilaychi)
Bayleaf (Tejpatta)
Tsp Red chilli powder
A Tbsp Salt
2 Dry red chilli
1Tsp turmeric powder
1 Tsp Cumin seeds
1 Tsp Coriander Powder (Dhaniya)
1/2 Tbsp Garam masala
2 Tbsp chhoped Coriander leaves
7-8 Cashews
1 Cup fresh Cream
How to cook palak paneer
1) Soak cashews in warm water for 30 minutes.
2) Take one Cooking bowl half full of water, bring it to boil on stove. Then add spanich leaves in it, cook it for 15 mintues on closed bowl.
3) After 15 mintues, separate leaves from water. Now with the help of blender, blend the spanich leaves with 1/2 cup of water. Put paste aside.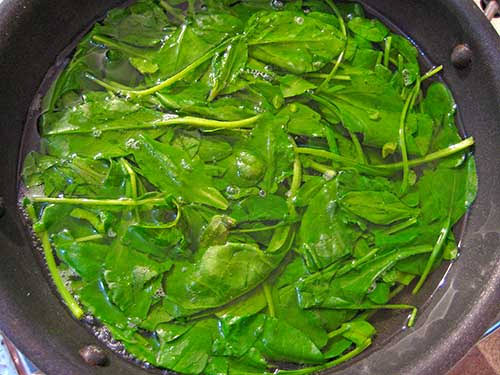 4) Take a deep stainless steel pan (kadai) on stove. Add oil and heat it. Then add bayleaf, Cumin seeds, Cinnamon stick, Green Cardamom, Red dry chilli. Look it on low flame for 1-2 mintues.
5) Now add onion paste, cook till it's colour gets brown, saute continuously.
6) After 3-4 minutes add tomato puree and cook for 5-6 minutes. Till oil gets separate from paste.
7) Then add Red chilli, powder, salt, Garam masala, turmeric powder and Coriander Powder, mix well.
8) After that add spanich paste and paneer pieces in it, mix all properly. Then bring it cook on low flame for 5 minutes. So that gravy enters in paneer.
9) Add Coriander leaves for better taste.
10) Garnish with cashew and Cream, mix all properly.
Your palak paneer curry is ready now. Serve not with 'Buttery naan', 'Chappati' or 'Rice'. It tastes really awesome as it is 'Desi Indian dish'.
Watch full video of PALAK PANEEER RECIPE.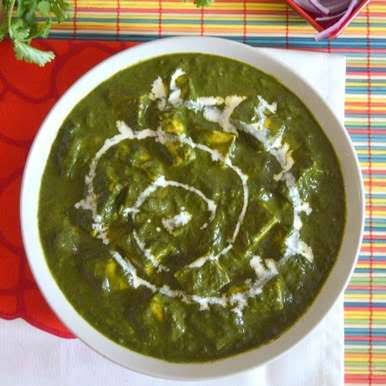 TIME DURATION = 30 MINUTES
PREPRATION TIME = 30 MINTUES
SERVING = 4-5 PERSONS
Related post = RESTAURANT STYLE TWO PANEER RECIPE
Point to Remember
Remember you can add water according to your desired thickness or can avoid. But do not add more water because palak paneer is usually made thick.
You can do paneer shallow fry before cooking for crispy paneer taste.
Try this yummy recipe at home and share your experience with us. And if you have any query or want to ask me anything you can directly message me on Cookin France my Facebook page or comment session.
Share your recipe with us , we'll glad to post such guest's recipe.
Thanks to all