In this Drizzling winters season let's eat some hot soup.In the world of thousands of soups reciepes, today Cookin France come with 4 most easy, yummy and healthy vegetables soup recipes.
1) Mix vegetables Soup
Mix vegetables soup is 100% health friendly because it is zero calorie soup, Wonder about why?? Because we can make this soup without oil, yes without oil. So if you are health conscious girl or can be boy.. You must learn how to make this.. So let's start cooking.
Ingredients for vegetables soup
3 cups water
Salt for taste
1/2 tsp Crushed black pepper
1tsp lemon juice
Corriender leaves for garnishing
1/2 chhoped cabbage
1 chhoped spring onion
2 chhoped Carrot
3-4 chhoped mashroom
(you can add any seasonal vegetables)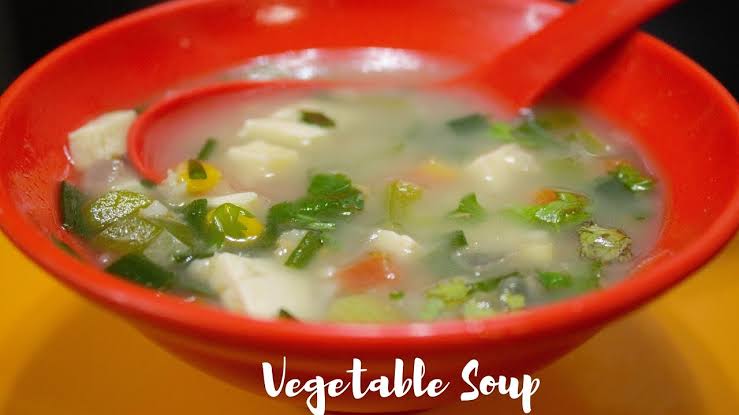 How to cook vegetables soup
1) Take a pan, add water and add one by one all vegetables, mix well.
2) Now add salt, crushed black pepper and lemon juice and cook it for 4-5 mins.
3) Your soup is now ready now garnish with corriender leaves and serve it hot. It will definitely helps your skin to glow and forever young.
Watch video of MIX VEGETABLES SOUP RECIPE.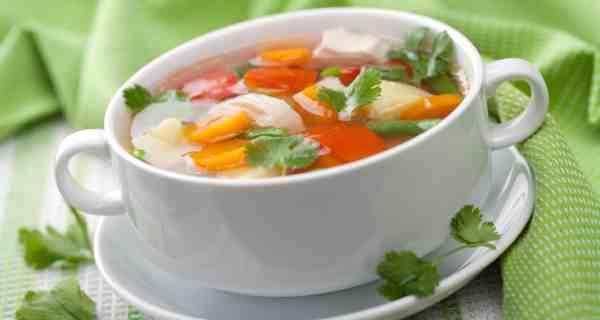 SERVING = 3 PERSONS
2) Tomato soup
Tomato soup is the another easy recipe of soup. We all love Tomato soup because of its creamy taste but specially kids like it the most. So now learn now you can cook it in few easy steps:-
Ingredients for tomato soup
1/2 tsp oil
1/2 tsp butter
4-5 roughly chopped tomatoes
2 bayleaf ( Tezpatta)
1 Chopped onion
5-6 garlic slice
Salt for taste
5-6 black pepper corns
1 cup cream
Corriender leaves for garnishing
2 cup water
2 bread's small piece (For bread croutons)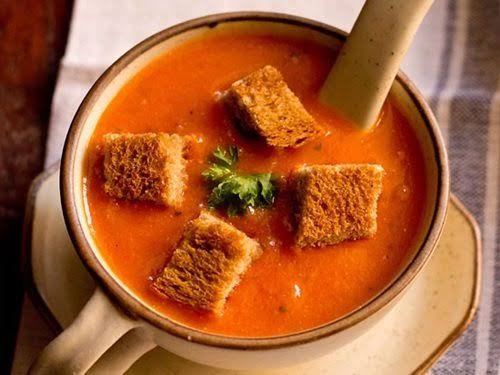 How to cook tomato soup
1) Take a pan, add oil and butter together and bayleaf, garlic, tomato and carrot, then mix it well.
2) Now add salt, black pepper, water and let's it on flame.
3) Now take a blender and blend it and again cook this soup on low flame and add cream for creamy texture.
4) Take another pan and add 2tsp oil and bread's pieces and toast it for making bread croutons.
5) Mix soul with bread croutons, garnish with cream and corriender. Serve it hot, Enjoy!!
You can visit the video of TOMATO SOUP RECIPE.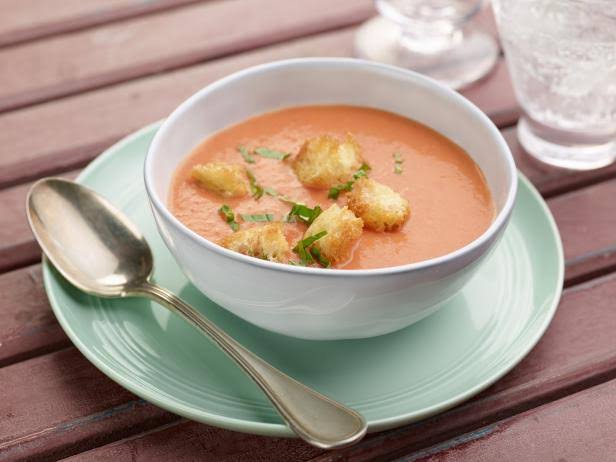 SERVING = 3 PERSONS
3) Split peas Soup
Split pea soup is the one of my favourite vegetables soup. If you are also soup lover so, this soup recipe is for you and you only…
Ingredients for split peas soup
1 tsp vegetable oil
1 tea spoon Cumin (Jeera)
2 bayleaf (Tezpatta)
2 cinnamon stick (Daalcheeni)
5-6 black peppercorns (Kaali mirch)
1 tea spoon fenned garlic
5-6 garlic cloves
1 chhoped onion
2 green chilli
Sal for taste
Mint leaves for garnishing
1 tsp lemon juice
1/2 cup fresh peas
1 cup water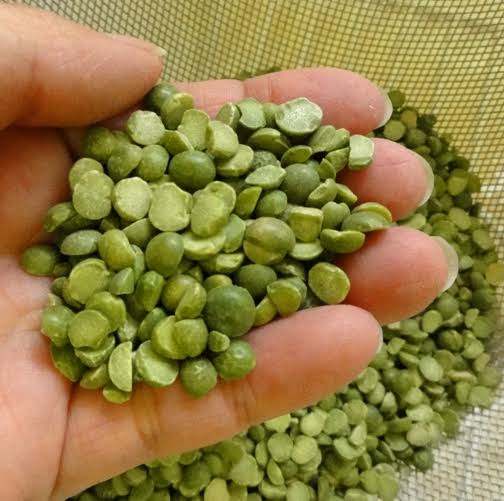 How to cook split peas soup
1) Take a pan, add 1 tsp vegetable oil, Cumin seeds, bayleaf, cinnamon sticks and garlic cloves. Cook it for 2 mins.
2) Now add chopped onion, green chilli, peas and water, mix well. Add salt and cook it for 5 mins.
3) Add mint leaves and lemon juice. Take out the bayleaf and cinnamon sticks out. Now put these on blender and blend it.
4) Again warm it for 3-4 mins in medium flame. Garnish it with mint leaves.
Watch video of SPLIT PEAS SOUP RECIPE.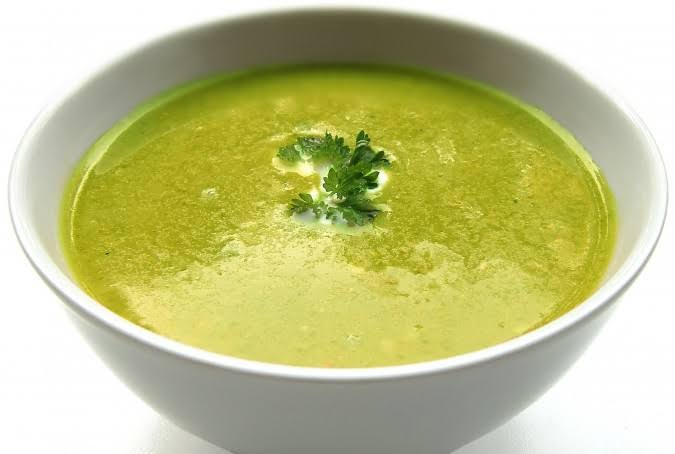 SERVING = 2 PERSONS
4) Sweet corn Soup
Sweet corn is loved by everyone, Sweet corn is used in many dishes such as pasta, mix vegetables or can be directly eat. Today we learn how to cook sweet corn soup in few minutes…
Ingredients for Sweet corn soup
1/2 cup boiled sweet corn
1/2 cup grated sweet corn
3tsp corn flour dissolved in 1/4cup fresh water
Salt for taste
1 tea spoon sugar
4 cup water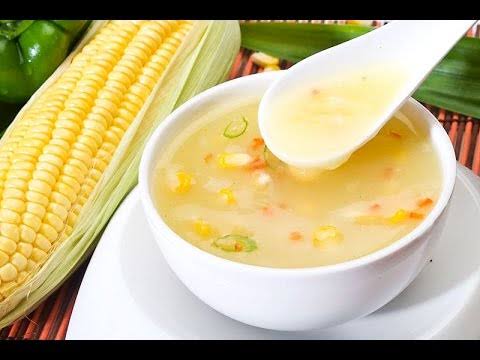 How to cook Sweet corn soup
1) Take a big pan full of 4 cups water, add boiled sweet corn and cornflour water mixture, add cook for 5-10 mins.
2) Now add salt, sugar and grated corn. Stir occasionally for lump free soup. Cook for 5-10 mins till it boil.
3) Serve hot with green chilli or souce which you like.
Watch video of SWEET CORN SOUP RECIPE.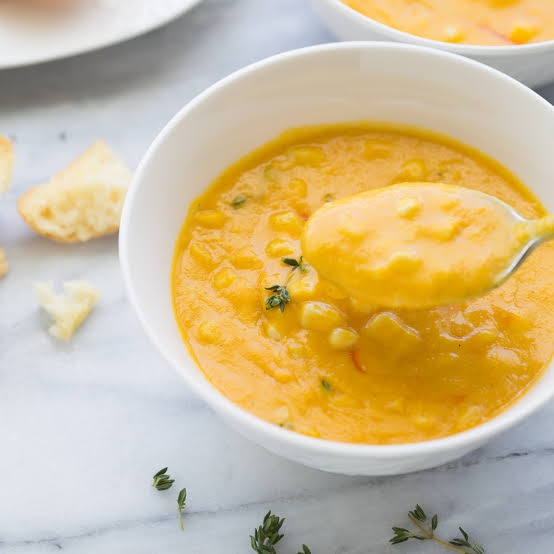 SERVING = 5 PERSONS
Make these soups at home and share your valuable reviews on comment session… Thanks from Cookin France..!!!