Yummy vegetable vermicelli upma is one of the most famous breakfast of south India. Healthy and delicious vermicelli loved by everyone, is full of yummy veggies. Mostly upma is made from Rava (Cream of wheat) but you can made it with vermicelli and lots of vegetables and it tastes awesome, but you can also make plain UPMA without vegetable. Vermicelli (Sewai) is made up of wheat flour (ATTA) or all purposed flour (Maida) or Rava. But I prefer wheat flour's vermicelli because it is very healthy than Maida or Rava Vermicelli. You will find different type of UPMA and I love all kind of Upma as they're extremely quick to make and delicious. So let's start vegetable vermicelli recipe:-
Ingredients for vegetable vermicelli upma
2tbsp oil
1tsp mustard seeds
4-5 curry leaves
1 chopped onion
1/2 chopped onion
1 chhoped Carrot
1 chopped capsicum
1/2 cup fresh peas
1/2 spoon Garam masla
2 cup roasted vermicelli
A cup water
1 tsp salt
One tsp red chilli powder
1tsp turmeric powder
Chopped coriander leaves for garnishing
How to make vegetable vermicelli upma
1) Take a hard steel pan (kadai), roast vermicelli on low flame. Roast vermicelli till it colour gets golden brown.
2) Now remove vermicelli from pan, add oil in pan in high flame. Add mustard seeds and curry leaves in pan, cook it till it sounds pop.
3) Add onion and cook for 2-3 minutes, now add all vegetables one by one. Cook it till become crunchy.
4) mix all vegetables properly, now add chilli powder, turmeric powder, Garam masla and salt in pan, and mix well.
5) Now add roasted vermicelli on pan with water, stirring occasionally So that vermicelli will not stick with the pan.
6)Your vegetable vermicelli upma is ready, garnish it with coriander leaves. Serve hot and enjoy!!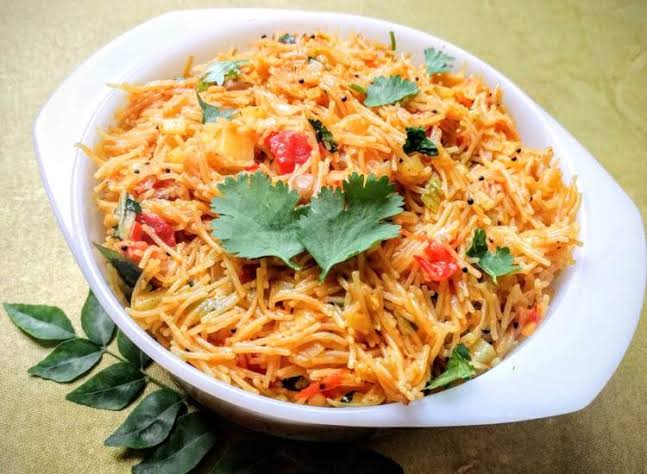 Watch video of VEGETABLE VERMICELLI UPMA RECIPIE
SERVING=3 PERSON
TIME DURATION = 30 MINUTES
RELATED POST = SPICY VEGETABLE MAGGIE RECIPE
Enjoy this yummy vegetable vermicelli at your home with your family and share with us your expirence.
If you want to share some suggestions or have any query you can comment below without any hesitation.
Share your healthy dishes recipe with Cookin France.. we welcome your recipe and will post surely.
Follow me on my Facebook page
Cookin France
THANKS!!